Golden Eye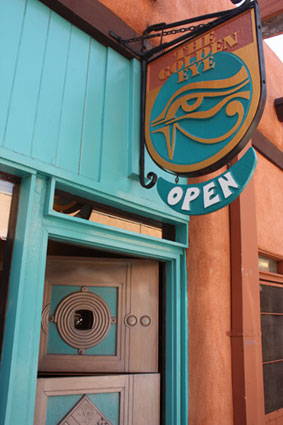 Norah Pierson was a woman of talent, taste, and humor; an original character who added new color and beauty to Santa Fe's unique retail jewelery landscape. Since 1971, Norah had run a successful business in Laguna Beach, but the increasing bustle and popularity of the area sent her in search of quieter surroundings. She liked privacy, disliked notoriety, and prefered the isolated lifestyle befitting a Santa Fe artist living surrounded by nature about 30 miles outside of town. Although she shied from the limelight in her private life, Norah's creations have captured the attention and admiration of buyers and collectors around the world.
In 1984, Norah opened her dream store and became one of the first female jewelers in Santa Fe to work in high carat gold and rare exotic gemstones. The hiring of Amy Bertelli as manager proved to be the beginning of a lifelong, dynamic partnership. Over the course of the next 23 years, they trained a talented crew of jewelers, and built a worldwide, loyal clientele for their designs.
Norah drew inspiration for her designs from a variety of cultures across the globe such as the Ashanti tribe of Central Ghana. Additionally, she loved the clever contrast of old, found, decaying metals with lush, rare jewels and high carat gold. a theme that remains in the displays today.
In 2007, Norah passed away peacefully in her sleep. The Santa Fe jewelers who proudly carry the torch of Norah Pierson's legacy also render their own special designs in unexpected metals and extraordinary gems. These jewelers are some of the best in their field.