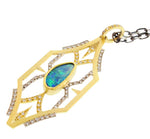 Annie Fensterstock
The jewelry of Annie Fensterstock blends a mastery of ancient goldsmithing techniques with dynamic contemporary design. Annie's jewelry is entirely hand fabricated in the traditional materials of 18 karat gold, 22 karat gold, platinum and blackened silver. Her works range from simple hammered wedding bands and unusual diamond engagement rings to intricately handwoven necklaces with jewel encrusted pendants. 
Annie received her BFA in Metalwork and Jewelry Design from the University of Michigan in Ann Arbor in 1993, where she studied under Hiroko Sato-Pijanowski. She continued her studies at the Jewelry Arts Institute and the Fashion Institute of Technology in New York City and holds a certificate from the Gemological Institute of America. Annie works out of her studio in Long Island where she resides with her husband and 3 children.
Her jewelry can be found in boutiques throughout the world.
Sorry, there are no products in this collection