About Us
---
Squash Blossom Celebrates 48 Years
---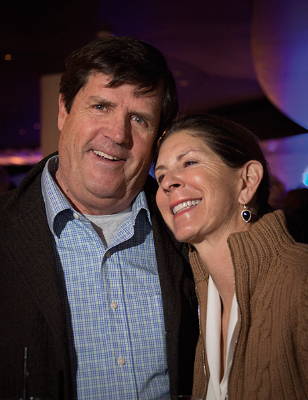 ---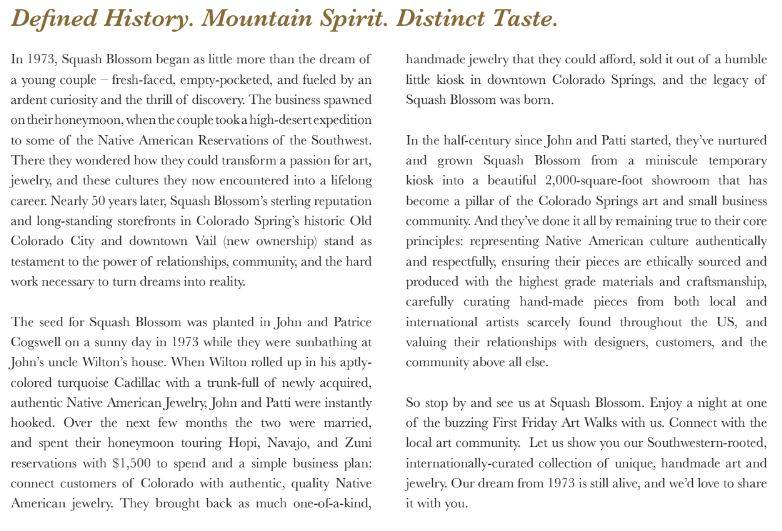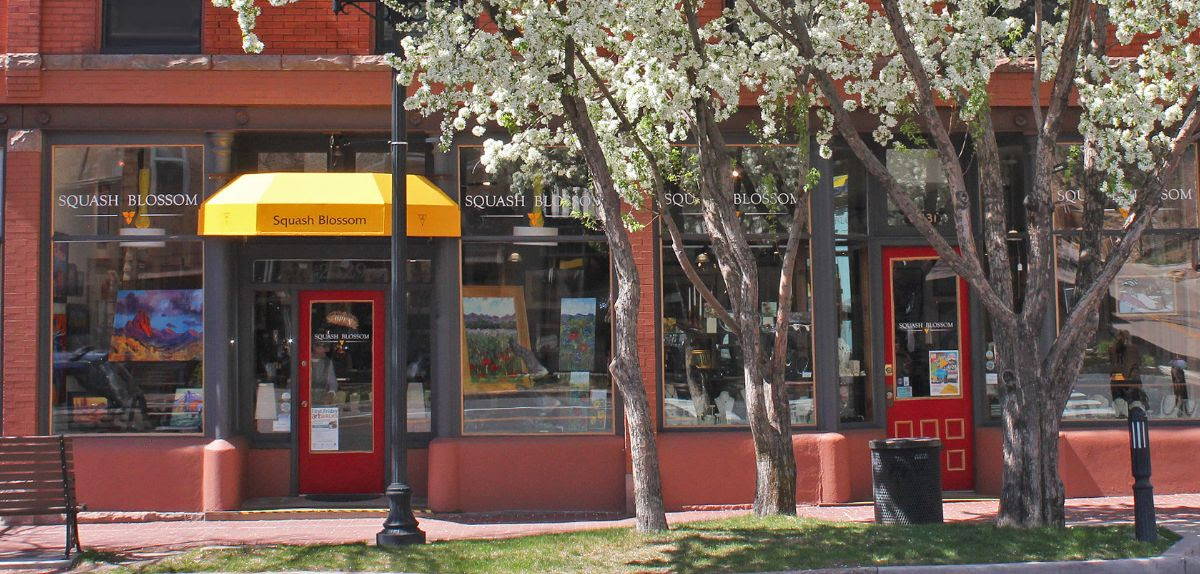 Colorado Springs - Old Colorado City
Since 1973, Squash Blossom has maintained its reputation for fine art, jewelry, bronze sculpture, and home accessories. From traditional Native American jewelry designs to contemporary and modern pieces, Squash Blossom has something for everyone.
The Squash Blossom is committed to providing our customers with quality merchandise, service, and selection.
---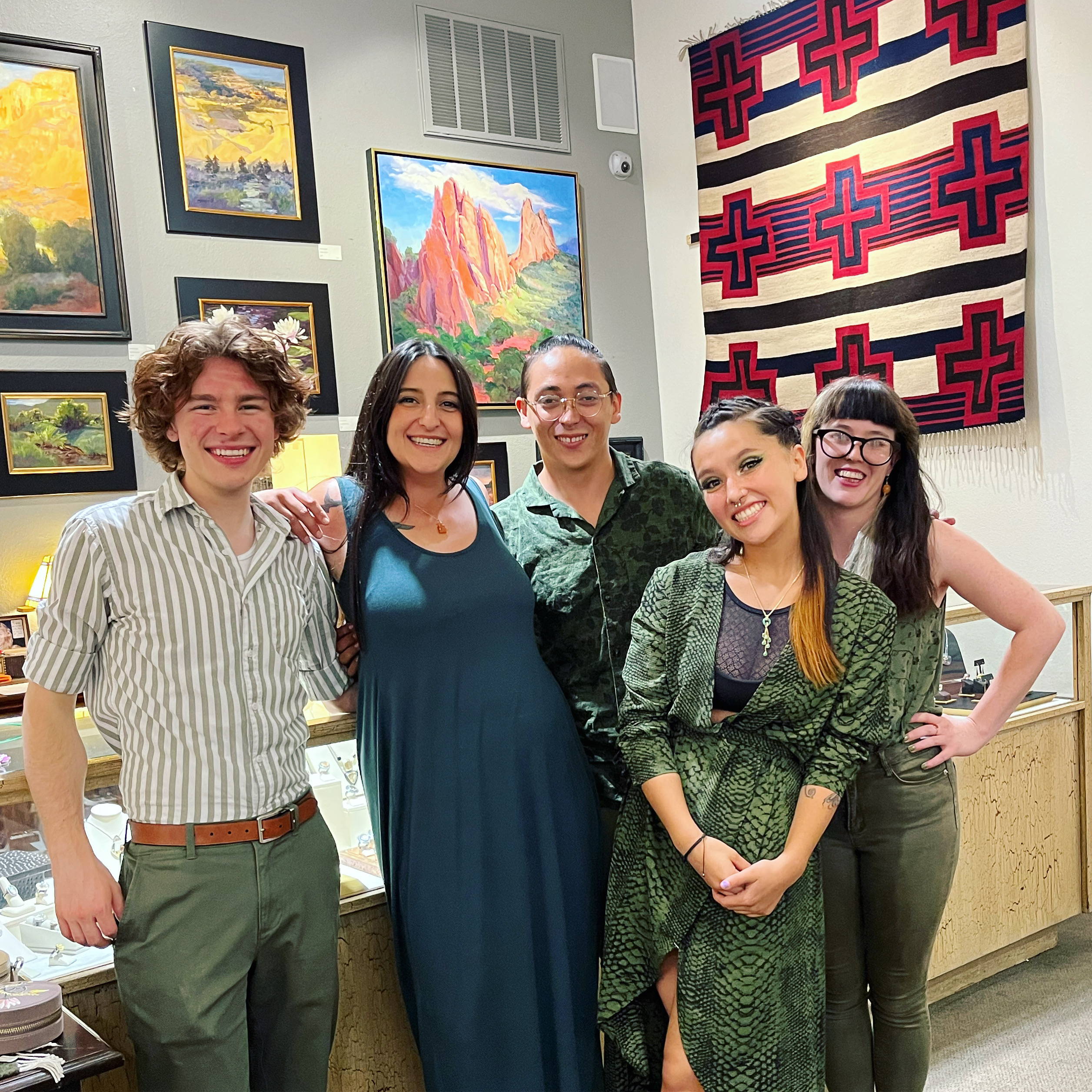 Kenny Idleman - Gallery Director
"Let your heart lead."
Kenny Idleman is Squash Blossom's Gallery Director, whose extensive background in jewelry, metalsmithing, and visual arts give him a unique perspective on his professional role. Currently, Kenny teaches metalsmithing and jewelry-making at Pikes Peak Community College in addition to his gallery director duties at Squash Blossom (with one of his students being our own Joe Severson).
Kenny says that his main goal as gallery director is to foster creative expression, whether that be through making space to feature new and upcoming artists each month or using his extensive resources and connections to fulfill commission and customer requests in jewelry or fine art. Kenny is a proud father of two, and his colleagues also look up to him for his expertise and for his excellent leadership. Kenny not only leads with his heart--he also encourages everyone else at Squash Blossom to do the same.
Ravan Clark - Assistant Gallery Director
"I do what I want."
As Assistant Gallery Director, Ravan Clark is a vital part of pushing Squash Blossom's storefront and online brand towards success. Not only is Ravan no stranger to creative work through her studies in fine art, she also showcases her own art right here in the gallery with block-printed greeting cards.
Ravan believes that art and creativity should be accessible to everyone and loves to share the passion with both the staff and customers at Squash Blossom. Using recyclables and other unique materials, Ravan enjoys creating her own artistic works through crafting, which she finds to be the most accessible medium for beginners. Making art accessible to the general public is important to her, and her role of Assistant Gallery Director puts her in the position to do so, working with Kenny to place paintings and jewelry into the hands of perfect customers.  
Jenna Musick - Operations Manager
"Huzzah!"
When it comes to customer service and detail-oriented work at Squash Blossom, look no further than our very own Jenna Musick. Jenna is an organizational sorceress of many talents who has worked in customer service for almost half of her life. During her free time, Jenna enjoys focusing on her own creative pursuits like sewing, knitting, painting, making miniatures, baking, and crafting anything that her heart desires. Jenna has an insatiable sweet tooth, so if you're looking to get on her good side, be sure to bring treats next time you visit her at Squash Blossom (that is, if she hasn't brought some in to share already!).  
Joe Severson - Sales Floor Lead
"I like rocks."
Joe Severson is a metalsmith and jewelry-designer in the making, and as a sales associate here at Squash Blossom he makes use of every nugget of knowledge learned in his studies. Student of SB Director Kenny Idleman, Joe is also a GIA-certified applied jewelry professional with a profound love and interest in all things gem and jewels. He is currently in graduate school for a gemology degree, after which he hopes to create his own unique jewelry and metalsmith designs. Joe is a wealth of information about metalsmithing and jewelry-craft, and his deep interest in the subject is apparent to all who interact with him.    
Lola Archuleta - Sales Associate
Kennedy Granbois - Sales Associate