Irene Neuwirth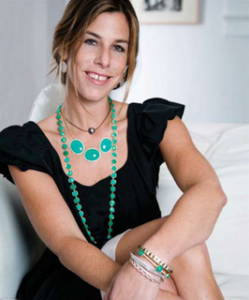 Irene Neuwirth is a Los Angeles based jewelry designer who discovered her fascination and talent for jewelry design in college. After graduating from the University of Vermont, Irene was drawn back to her hometown and the beach. She started making jewelry as a personal hobby; however, strangers soon began stopping her on the street to inquire about it. Irene began making custom jewelry and became an overnight success. In 2000 Irene and her business partner Tracy Stoll founded Irene Neuwirth Designs.
Irene ascribes her inspirations to Mother Nature, as well as her customers, who are women secure in their sense of style. Irene's work is designed in 18k yellow, white, and rose gold with the core of her collection showcasing rainbow moonstone, labradorite and pave diamonds. Additionally, she produces her lines with the seasons and uses correlating jewels such as rose de france, lapis lazuli, rose quartz, chrysoprase, carnelian and many more.
Irene's eye for cut and color of stones helps to put her at the top. The contemporary and simplicity of her designs, along with the cut and color of her stones make quite the statement. She knows exactly the right amount of femininity that her jewelry needs to compliment any fashionable woman.
Irene Neuwirth has a very large following for her recognizable designs. Her jewelry has graced many of today's high fashion magazines. Her jewelry can be seen in Elle magazine, Vogue, Instyle, Lucky, Town & Country, and Self.