Tom Owen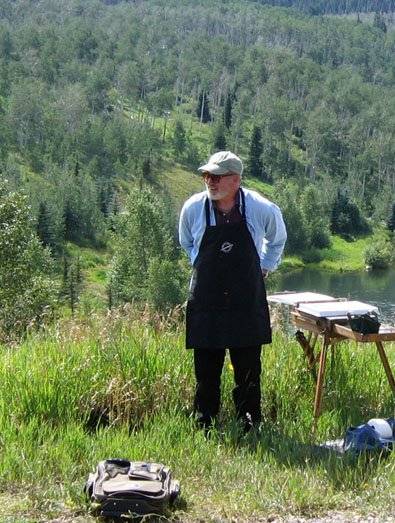 An artist and a teacher for over thirty years, Thomas J. Owen is a nationally recognized painter in watercolor, oil and pastel. A graduate of Northwest Missouri University, Owen taught painting at Pikes Peak Community College and The Cottonwood Artists' School and conducts workshops throughout the U.S.
"The West holds inspiring variety for An artist. The great vistas, towering mountains, eroded canyons, rustic ranches and golden groves, are all ruled by the omnipresent sky. I have no favorite here: I love the all. I like to paint in series and will paint variations on a theme until I know the subject intimately, then I will seek other directions and often return to old subjects when I see them in a new and refreshing way. Most often, it is a subject's interplay with light and atmosphere that gets my attention and I will capture the feeling of a moment in time. I enjoy working in oil, watercolor and pastel equally as each media has a special quality to offer the viewer."
Mr. Owen has been elected to signature status in 10 watercolor societies including the American Watercolor Society and the National Watercolor Society. He has received many major awards including two Mario Cooper and Dale Myers Medals (AWS), The Gold Medallion from the Adirondacks National exhibition of American Watercolor, The Harriet Wexler Bartsch Award (NWS) and the national Watercolor Society Award from Watercolor West.