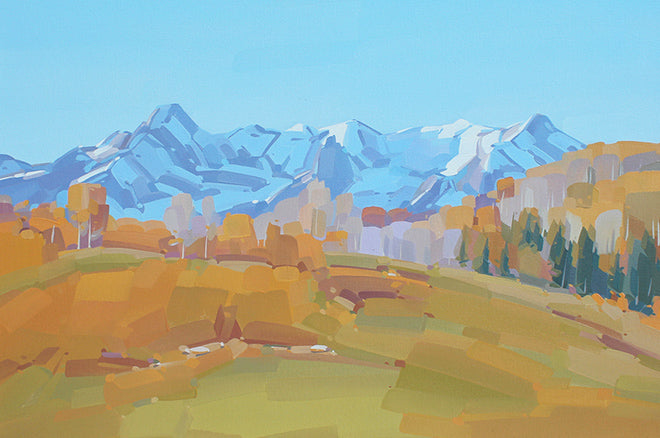 Join us as we welcome three very talented individuals into the gallery for this month's ArtWalk. Oil painters Jean Cuchiaro and Mick Shimonek will display their unique paintings, and jeweler Elizabeth Soscia will present her new unique jewelry designs!
 We will be welcoming Colorado native, Jean Cuchiaro for ArtWalk this month.  Cuchiaro graduated from the University of Colorado and began her first successful profession in microelectronics. Although Cuchiaro excelled in a fulfilling career, her passion emerged as a great oil painter launching her second successful occupation. After taking art classes at the Art Students League of Denver and receiving atelier training at the ModboCo School of Art, Cuchiaro has developed the perfect technique to transform everyday shapes into beautiful pieces of artwork. Cuchiaro strives to capture everyday images and turn them into vibrant pieces of art. With a sketchbook and camera in hand, she ventures out on her mountain bike, hikes, and even to her garden to gather her images which are then turned into illuminating pieces of art.


Oil painter Mick Shimonek will also join us for this October Artwalk. He developed his unique style of painting at the University of Nebraska, the Colorado Institute of Art and the Rocky Mountain School of Art. His vast training enhanced his imagination and unique view of the world, which he then combined with his developed eye for color and design.  His paintings create gentle landscapes when viewed from a distance. When examined closer, bold brush strokes and abstract shapes combined with vibrant colors create these pleasing landscapes. He now spends his days near Lake McConaughy in Lemoyne Nebraska where his home and studio are currently located.
Elizabeth Soscia, our very own in house jeweler, will be providing a beautiful line of her hand crafted jewelry for Artwalk this month! Her studio, Earth Below Sky Creations is located right here in Old Colorado City. High School is where Soscia's love of jewelry making began when she took her first metalsmithing class. Her passion flourished at R.I.T.'s school for American Craftsmen in Rochester, NY where she got her degree in metalsmithing. She then had the privilege to study under some of the most talented artist and designers like Todd Reed and Barbara Heinrich. Soscia works in all metals and custom designs pieces to create connections from the natural world around her to fit the inner beauty of the wearer.
Celebrate with us as we open our doors and invite you inside to mingle and admire these talented individuals on October 5th from 5pm-8pm.