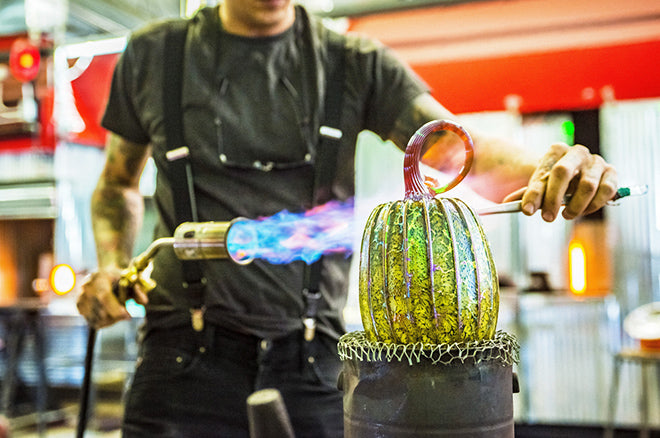 The Squash Blossom is excited to host Fide Durben of Fides Virtu Jewelry, sculptor and poet J. Christopher White, and Corey Silverman of The Furnace: A Glassworks Studio for September's First Friday Artwalk. Join us as we learn the different techniques between glass working and sculpting while enjoying a beautiful spread of hors d'oeuvre and a glass of wine. It will be a lovely educational and social experience.
We are welcoming back artist Fide Durben who joined us earlier this year with a lovely demonstration of her glass lampworking process. Fide has always found herself happiest while creating. She began her creative journey while living in Chile where her innovated style blossomed in the fashion business. It was not until she first saw glass in its liquid form that inspired her to take a different creative path. The similarity to water in its translucently and ever changing natural beauty is what inspired Fide to enroll at the Bemis School of Art in Colorado Springs. With her previous experience in fashion design and her newfound love of glasswork, she created Fides Virtu. Virtu refers to Fide's love of art, which is expressed through a technique called lampworking. Using a torch to melt colorful glass, Fide wraps the molten glass around a mandrel. After the fluid glass is hardened, it is strung to create a unique piece of jewelry.
Corey Silverman of The Furnace: A Glassworks Studio is well known for his unique blown glass pumpkins placed around The Squash Blossom Gallery. After receiving his Bachelor's of Fine Arts from Alfred University in New York, he continued his learning experience with multiple studios across the country. He began experimenting with different glass forms and eventually found his passion with hand blown glass. His unique pieces can now be found in his studio located in Lakewood Colorado and all across the state. Each piece that leaves his studio is truly a one-of-a-kind handmade piece, as Corey does not mass-produce on an assembly line. Rather, he and two other artists work closely with one another, using signals to quickly shape and mold the glass while it cools. Corey and his wife encourage visitors into the gallery to observe as well as to attend classes they offer each week.
Christopher White is a unique, Loveland based artist that uses poetry to amplify his wood carvings and bronze sculptures. The messages of his poetry are drawn from his faith, and provide a narrative for each of his truly unique works of art. White's signature style of utilizing movement and fluidity to blend bronze realism and the organic, abstract nature of wood into one-of-a-kind "bronzewood" sculptures, has continually won him top honors at national and international competitions. Recently, White was awarded first place in interpretive sculpture at the 2009 Ward World Championship Wildfowl Competition, the largest bird carving competition in the world. White's studies in Wildlife Biology at Texas Tech University and Human Anatomy at the National Institute of Fine Arts in Mexico, are evidenced in his impeccably accurate representations of animals and bodies in motion.
Stop by The Squash Blossom Friday, September 7th to meet these talented artists and experience the processes behind their stunning creations.